Surviving a House Fire: Essential Tips from Fire Experts for Prevention, Response, and Preparedness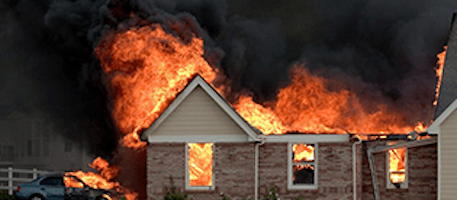 The peak months for house fires are December and January, though fires occur every day, year around. A house fire can become life-threatening in just two minutes, experts say. An entire residence can be consumed within five minutes. It's important that everyone in the house know what to do as soon as they are aware of a fire or smoke. A family emergency plan can save lives. The following are tips from fire experts on what to do in the event of a fire, tips on preventing fires, and how to prepare for the possibility of a fire.
Fire! What do you do?
The following are recommended life-saving steps on what to do if your home is on fire:
Feel the doorknob before you open a door. If it's hot or smoke is coming under the door, keep the door shut and use your second way out.

If the doorknob isn't hot, slowly open it while prepared to shut it quickly, if there is heavy smoke or fire on the escape route.

If there is smoke en route to your exit, crawl low to the floor. Heavy smoke and toxic gases collect first along the ceiling.

If you were unable to get to someone in the home who needed assistance, go outside and call the fire department or 9-1-1. When  first responders arrive, tell them the location of anyone inside.

Tell firefighters immediately, if there are any pets trapped in your home.

If you are unable to exit, shut the door and keep smoke out by covering vents and openings around doors with tape or cloth. Call 9-1-1 for help. Stay there and signal for help using a flashlight or light-colored cloth at the window.

Stop, drop, and roll, if your clothes are on fire. An alternative is to smother flames with a towel or blanket.
Basic Fire Safety Tips
Maintaining working smoke alarms in the home and practicing fire escape plans are steps that save lives every day. The following are basic fire safety tips, as provided by the Red Cross:
Install a smoke alarm on each level of your home, inside each bedroom, and outside sleeping areas.

Each month, test smoke alarms. Change the batteries, if they aren't working.

Review the fire escape plan with your family and practice the plan every six months.

If a fire occurs in your home, get out, stay out of the home, and call for help. Never go back inside for anyone or anything. (Personally, I'd risk my life to save my loved ones; however, it is recommended not to go back inside.)

Protect Essential Documents
Every fire safety expert agrees that under no circumstances should a person stop to grab a valuable of any kind when their home is on fire. Immediate escape is necessary, since flames spread throughout a house in as little as 5 minutes. This is also why it's so important to get a fireproof file cabinet or box to protect essential documents, including:
Your estate plan

Your last will and testament

Legal documents related to a trust, living will, healthcare directive, and power of attorney

Life insurance policies

Birth certificates, social security cards, copies of IDs, contracts, titles, and deeds
Store jewelry, heirlooms, and family photos in a fireproof safe or box as well.  Consider backing up photos and your important documents on a flash drive to conveniently grab and go in an emergency.  A safe deposit box can be utilized to protect items too.
A Comprehensive Family Emergency Plan
In an emergency such as a house fire, you and your family's safety is the top priority.  Something to also consider when planning for unexpected emergencies is that the difficulty of recovering from a house fire is often complicated by loss of documentation and details about financial matters.  It's important to have details on your affairs and digital copies of important documents such as your birth certificate, social security card, medical files, insurance policies, and even family photos kept in one location.   A family emergency planning tool such as the Personal Emergency Information Recorder, provides a simple and guided way of creating a plan for unexpected family emergencies.  It's a workbook that contains fill-in-the-blank forms created by a Certified Estate & Trust Specialist, to document, organize and centralize emergency information (i.e. passwords, financial information, medical information, estate plan details, personal instructions, wishes, the location of important documents, and more).
Contributing writer: Stephanie McHugh
Resources: Ready.gov, Restoration1.com, Redcross.org
Posted by Securemylegacy.com – Products for Family Emergency Preparedness
Share
0 comments